Prestashop Shipping Module
Shipping is an important part of your eCommerce business, yet its certainly not the first thing you think of when planning your new business. And why should it be?
Our PrestaShop plugin allows you to seamlessly integrate your website with our shipping platform, allowing customers to get accurate prices for the shipping of their goods, upfront. And with a click of a button, all their details will be added to our system, allowing you to rest peacefully at night, knowing your stock will arrive on time, every time.
Point your developer to the installation instructions below to get started, or email us at [Enable JavaScript to view email].
The installation of the Collivery.net plugin is as easy as a few clicks of the mouse, once installed the plugin will only need you to enter your username and password. By default the plugin uses our demo account so that you can test your new plugin before going live.
This plugin gives your PrestaShop store the ability to get prices from Collivery.net based on the dimensions and weight of the products added to your client's cart. After the client paid, the plugin will send the details of the Collivery through to us, or allow you to do so manually in your backend, also allowing you to modify the particulars of the delivery before sending the delivery request to Collivery.net
Once the delivery is accepted, the delivery's details are saved in your database where you can access the delivery in order to track its status, display parcel images and proof of delivery. Your clients too have the ability to track the delivery but not to display parcel images or proof of delivery.
Prerequisites before installing our Collivery.net Extension:
PHP Version 5.3 or above
PHP SoapClient enabled
Prestashop Version: 1.6.1.6
Make sure before installing this plugin that you make a full SQL database backup and a full backup of all your files. If for some reason something goes wrong you will need this backup to get your website back to where it was before. Also please note before updating your Wordpress or PrestaShop version make sure you confirm with us that the plugin does support the new version.
Collivery.net provides the following plugins as a service to our clients.
The responsibility to ensure that the integration is working correctly rests with the client.
Collivery.net does not accept responsibility for any errors in pricing, addresses or any other part of the collivery process which may not work correctly.
By downloading the attached plugins the clients accepts the above conditions and will not in any way hold Collivery.net responsible for errors.
Collivery.net's integration team will provide all assistance to the client in the integration process and, where possible, will provide technical support to the client.
This plugin only supports your primary address as listed with Collivery.net as a collection point during the checkout to display a quote for shoppers. Changing of collection addresses can only be done in the admin area.
This plugin does no unit conversion and works with the units cm - centimetre, kg - kilogram and the currency R - ZAR rand. Whatever specs we receive or send out will be in cm, kg or R regardless of the symbol unit that is printed out.
This plugin only allows for you to dispatch deliveries. To cancel deliveries you will have to log in to collivery.net
This plugin requires javascript enabled in browsers to work.
This plugin requires specific non standard address fields to work. Current addresses will have to edited once so that they contain the correct fields of data.
In your admin back office navigate to Modules , then click on add module. Upload the mds.zip and click install.
To uninstall navigate to Modules in your admin back office, search for the MDS module and in the drop down menu select uninstall.

In your admin back office navigate to Modules, then search for the MDS module in the search bar. Click on configure.
Here you must enter in your MDS login details, an overcost fee for each service and indicate if you have risk cover with MDS.
If you don't wish to add an overcost fee for a service you may just enter in the value '0'.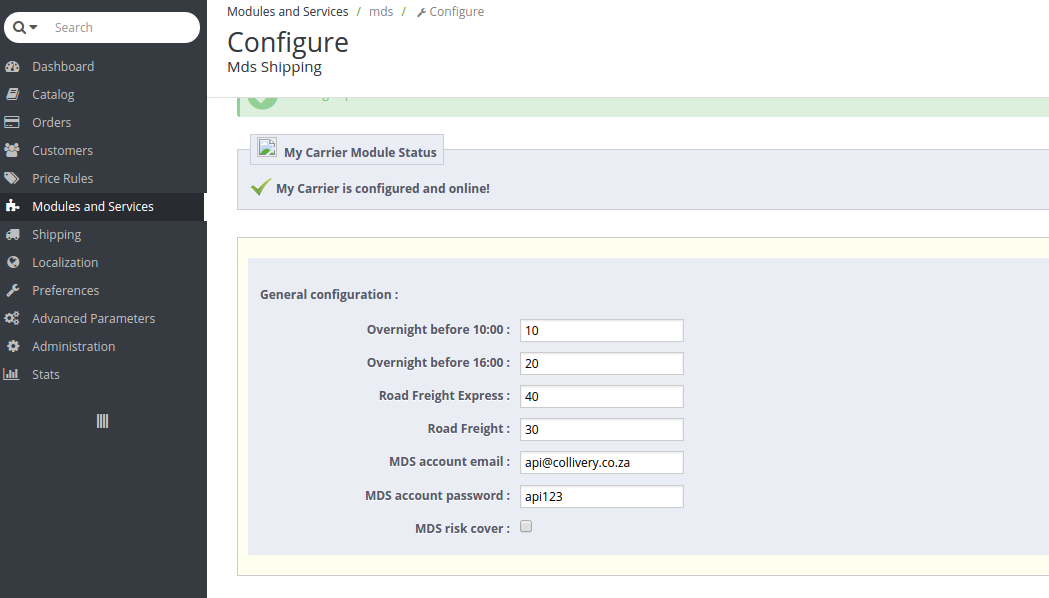 In your admin back office navigate to Shipping where you will see a list of carriers. To configure a carrier click it's edit button.
General settings allows you to change the display name, description, and logo of that service.
Shipping locations and costs allow you to set an additional handling fee for a service as well the range for which that fee will be applied. Ranges can either be weight or total cart price based. One can configure multiple ranges each with their own fee. Please note that free shipping must be disabled.
Size, Weight and Group access allows you to restrict use of a delivery option within a group or range.
During the checkout the shopper will be asked to choose a shipping option. Amoungst the options you will see the MDS shipping options. The price displayed per option is the sum of the delivery fee that MDS charges you, the overcost fee that you have have set in the plugin configuration and the additional handling fee for a range if it applies.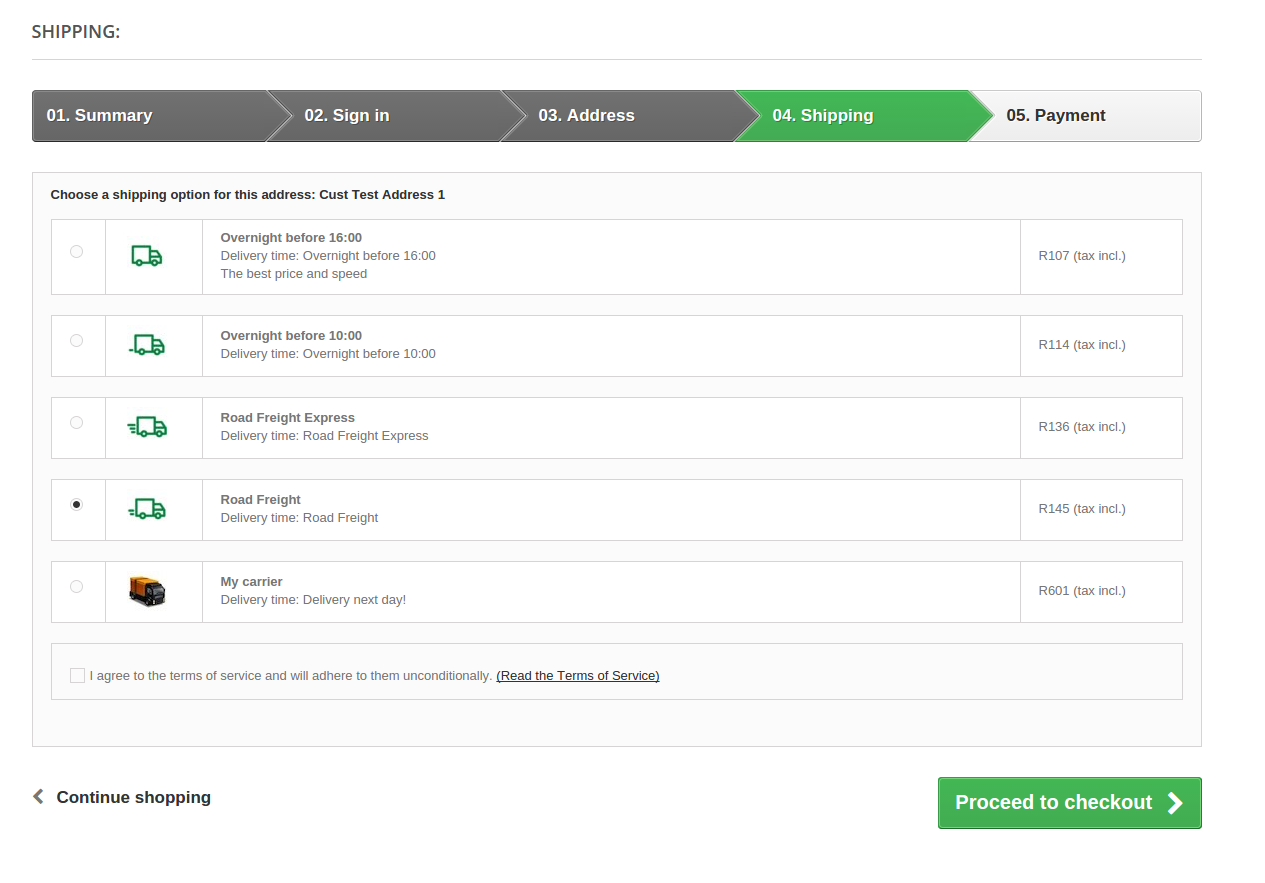 To despatch a delivery once ready navigate to Orders in your admin back office. You will see the MDS shipping tab.
Here you will be able to:
Change the collection address
Change delivery address
Despatch the delivery
Add collection and delivery addresses
Please make sure the right addresses are being displayed under the Collection and Delivery Addresses sections.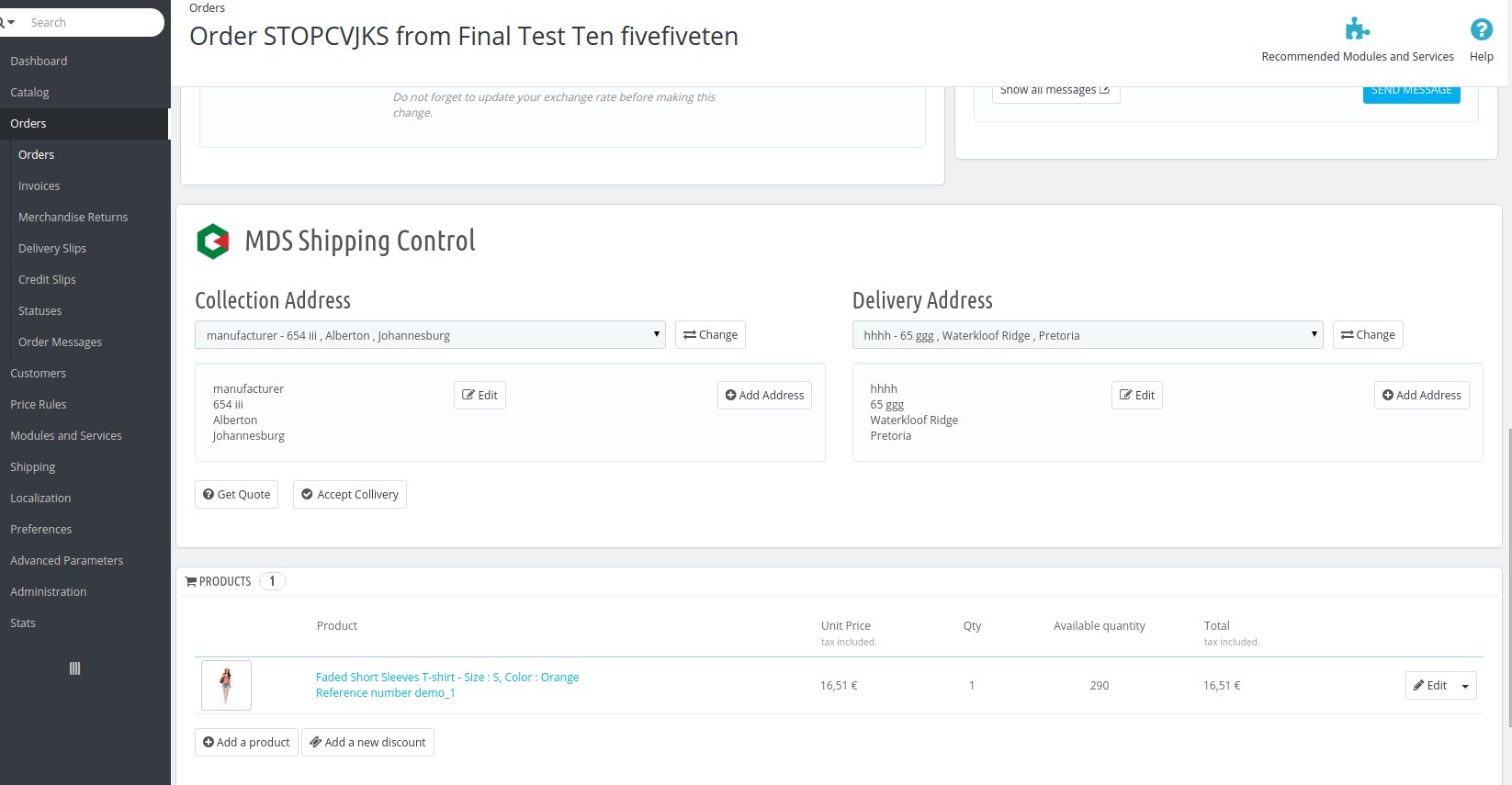 Once you have despatched the collivery you will be able to see the collivery's status. This will also allow you to view the waybill and when there is a POD, to download the waybill.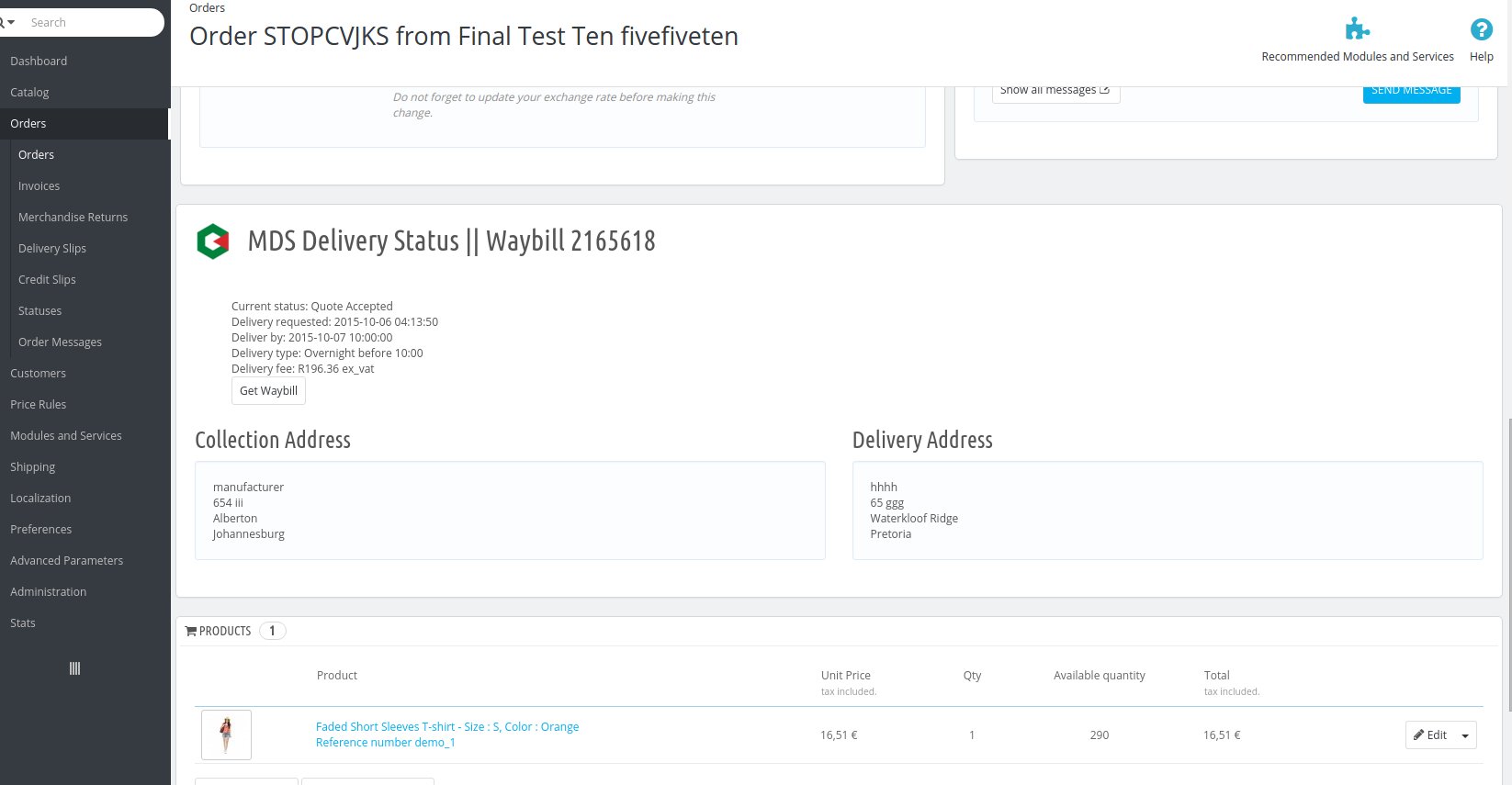 Here you can view all past deliveries. If you click on one of the deliveries you then have access to parcel images, proof of deliveries and tracking information for each delivery.