WooCommerce Shipping Module
Shipping is an important part of your eCommerce business, yet it's certainly not the first you think of when planning your new business. And why should it be?
Our WooCommerce plugin allows you to seamlessly integrate your website with our shipping platform, allowing customers to get accurate prices for the shipping of their goods, upfront. With a click of a button, all their details will be added to our system, allowing you to rest peacefully at night, knowing your stock will arrive on time, every time.
Point your developer to the installation instructions below to get started, or email us at [Enable JavaScript to view email].
The installation of the Collivery.net plugin is as easy as a few clicks of the mouse, once installed the plugin will only need you to enter your username and password and confirm the zone settings. By default, the plugin uses our demo account so that you can test your new plugin before going live.
This plugin gives your WooCommerce store the ability to get prices from Collivery.net based on the dimensions and weight of the products added to your client's cart. After the client paid, the plugin will send the details of the Collivery.net through to us automatically or allow you to do so manually in your backend, also allowing you to modify the particulars of the delivery before sending the delivery request to Collivery.net.
Once the delivery is accepted, the delivery's details are saved in your database where you can access the delivery in order to track its status, display parcel images and proof of delivery.
Prerequisites before installing our Collivery.net Extension:
PHP Version 5.4 To 7.2
PHP SoapClient enabled
WordPress Version: From 4.0 To 5.5.1
WooCommerce Version: From 3.0 To 4.5.2
Make sure before installing this plugin that you make a full SQL database backup and a full backup of all your files. If for some reason something goes wrong, you will need this backup to get your website back to where it was before. Also, please note before updating your WordPress or WooCommerce version make sure you confirm with us that the plugin does support the new version.
Collivery.net provides the following plugins as a service to our clients.
The responsibility to ensure that the integration is working correctly rests with the client.
Collivery.net does not accept responsibility for any errors in pricing, addresses or any other part of the Collivery process which may not work correctly.
By downloading the attached plugins the clients accepts the above conditions and will not in any way hold Collivery.net responsible for errors.
Collivery.net's integration team will provide all assistance to the client in the integration process and, where possible, will provide technical support to the client.
The MDS API and all of its plugins do not support international deliveries, this ability is on our wish list and we will notify once we have started development.

This plugin modifies the Woocommerce address fields which prevents you from allowing non South African addresses being captured on the Billing and Shipping address, if you wish to sell products to anyone outside of South Africa you will not be able to do so.
Installation is as simple:
Download the plugin from our website



Login to the admin backend of your WordPress site, on the left panel click on then click on .
Click on . Click , navigate to where you downloaded the MDS Collivery Shipping plugin and select and open. Then select .





Once the plugin is installed it will ask you to activate it. Click on .





Congratulations the plugin is now installed!!




In your backend go to WooCommerce Settings.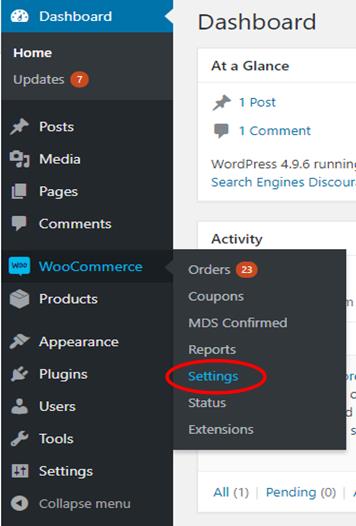 In the general settings in WooCommerce.
Set the Selling location(s) to specific countries, select South Africa in the Sell to specific countries.
Set the Shipping location(s) to specific countries, select South Africa in the Ship to specific countries.
Select No location by default in the Default customer location. The MDS Plugin does not work with geolocation.
This plugin modifies the WooCommerce address fields which prevents you from allowing non-South African addresses being captured on the Billing and Shipping address if you wish to sell products to anyone outside of South Africa you will not be able to do so.

In the Shipping tab select Shipping Options.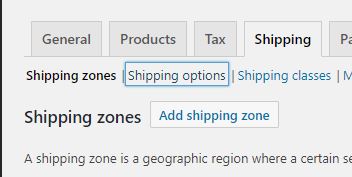 Please make sure shipping calculator is disabled on the cart page, new customers who have not entered in the full address (which is only entered on the checkout page) will sometimes be shown a message that we do not ship to their location, this might deter some customers.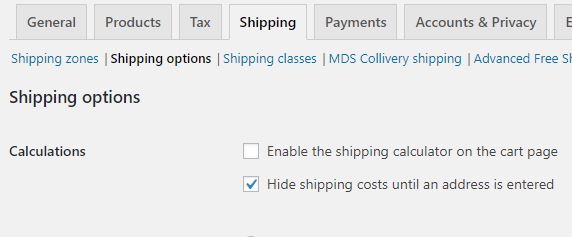 Navigate to the MDS Collivery shipping plugin page. WooCommerce - > Settings.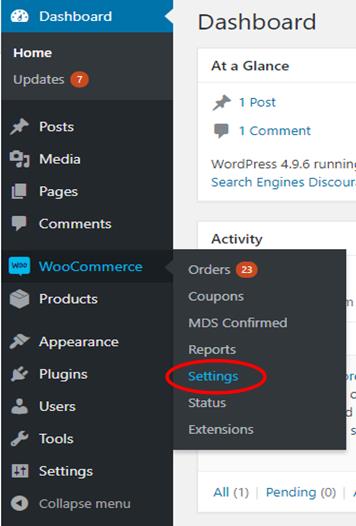 Click on Shipping, then just below where you clicked on Shipping click on MDS Collivery shipping (Please don't click on the one in the zones, we'll get to those settings just now).

Here is where the main configuration of the plugin is set (before you get worried the different services are set in the zones which are further below but do not skip ahead yet).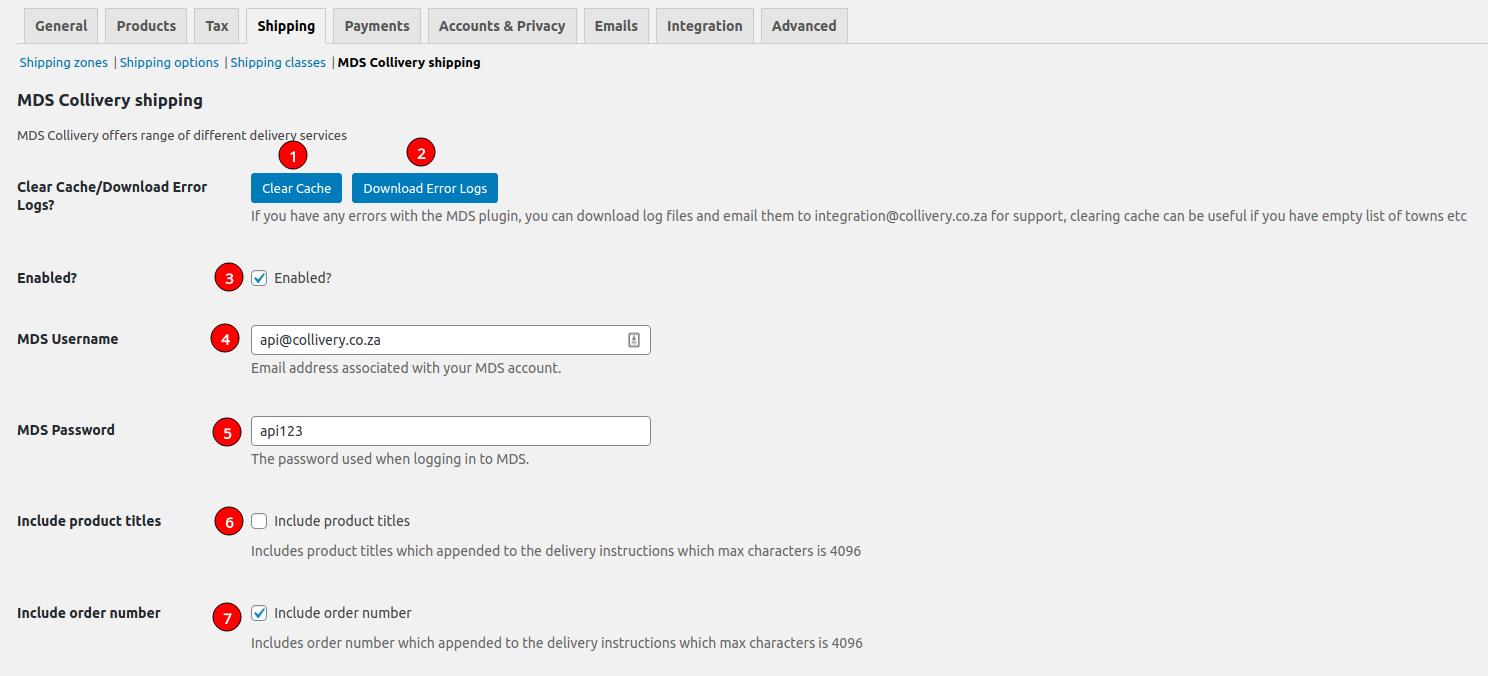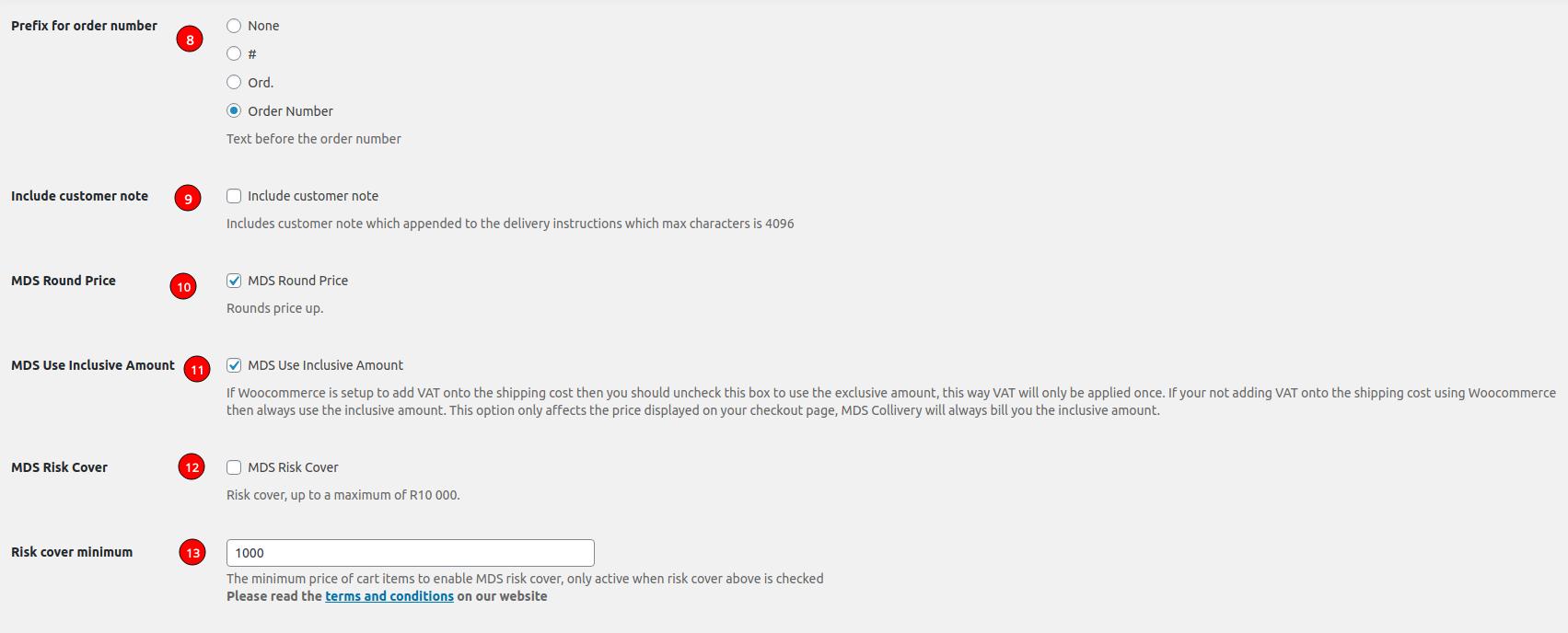 Is used when you are having issues with the plugin, perhaps there have been price changes or new cities or suburbs loaded onto the system and you would like to retrieve them.
When you are having issues with the plugin please download error logs and email them to

[Enable JavaScript to view email]

.
Enable or disable the plugin.
Your MDS Collivery user name, it is strongly recommended that you create an alias for the user who is in charge of the shop perhaps online@yourdomain.co.za or shop@yourdomain.co.za this will allow you to easily identify which waybills were created by your store and those by a human logging into Collivery.net.
Your password associated with the username in 4)
If you would like the description of the products to be added to the special instructions of the waybill so they appear when the waybill is printed.
Include MDS Risk Cover
By default MDS covers the upto R1000 on a waybill that does not have risk cover enabled. Please also bear in mind that MDS will on completion of a successful claim pay back the cost of an item, so perhaps your cart amount needs to be R1250 if your mark-up on your goods is 25%
Round UP the shipping cost, so instead of the shipping cost being R123.43 it will be R124
If Woocommerce is setup to add VAT onto the shipping cost then you should uncheck this box to use the exclusive amount, this way VAT will only be applied once. If you are not adding VAT onto the shipping cost using Woocommerce then always use the inclusive amount. This option only affects the price displayed on your checkout page, MDS Collivery will always bill you the inclusive amount.
If you would like the waybill to be automatically generated when a order goes into processing
If you would like waybills added to be accepted, so if you have 11) enabled and/or 12) disabled you can technically never need to log into your Wordpress site to action waybills, they will always bee added to our system and you can log into Collivery.net to accept once you are ready for the collection to take place
There are three options available for you to add more functionality to your shipping settings, free delivery mode.
No free deliveries
Free delivery
The Wording on checkout that will display
The minimum cart amount needed for free shipping to apply
Any roles where free shipping will not apply
Enable if you would only like free shipping to apply to local deliveries
Discounted delivery fee

The percentage discount you would like to apply to the shipping
The minimum amount of the cart before discount is applied
Any roles where discounted shipping will not apply
Navigate to Shipping Zones. Woocomerce -> Settings - > Shipping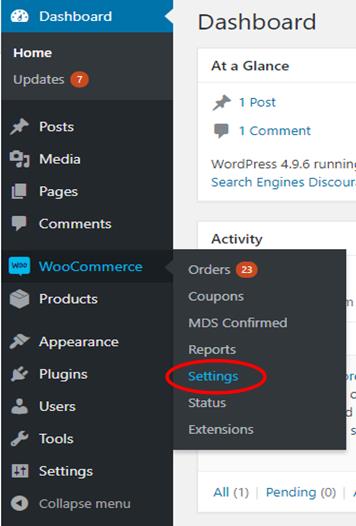 Click on

Give the zone a name, then select a region for the zone.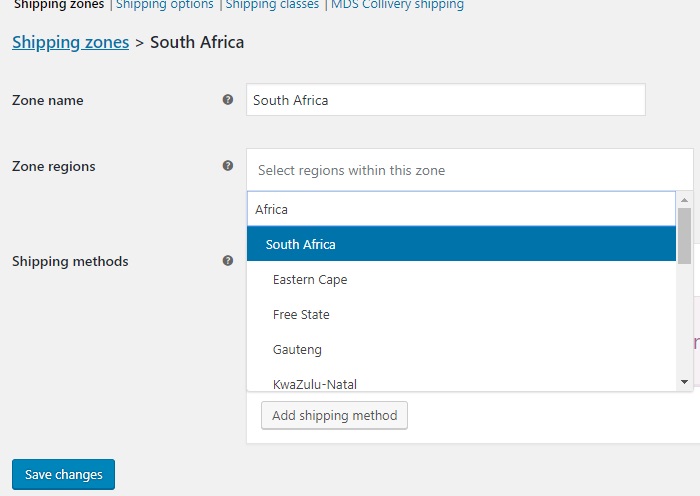 The recommended procedure is to add one zone for the whole of the South Africa Region, you can however add multiple zones for which there maybe different regions and in each of those regions you can apply different settings. However we strongly recommend on first configuration to only have one zone. When the plugin is working you can come back and split up the zones if you would only like to apply certain services to certain zones.
Once you have selected the region click on

and select MDS Collivery Shipping and then on


Now that the MDS Collivery shipping method has been added to the zone you can now edit it.

In the settings of the zone instance of MDS Collivery shipping you can: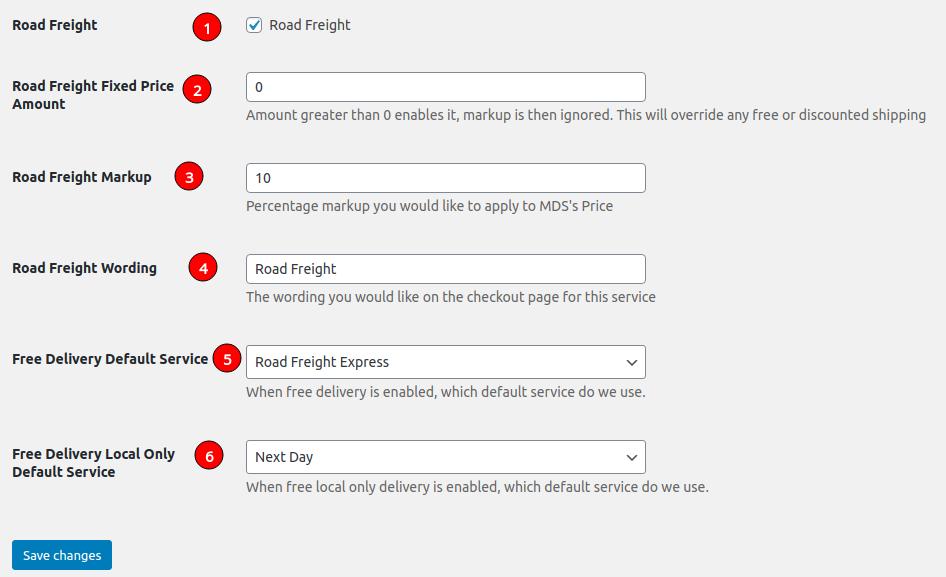 Enable or disable services
Change the percentage mark-up on the shipping costs (this has been put in place to add safe guard if the dimensions sent to MDS Collivery are not the same as the physical shipment, once your shopper has checked you may find it difficult to recoup price changes and it also adds an extra income).
Change the wording that will appear on the checkout page next to the shipping cost.
Select the service that will be used on Free shipping.
Select the service that will be used on Free shipping when it is free local only.
With the ability of using zones, you can have different settings for different areas.
Once your shopper has filled in the address details the shipping prices will display below, depending in which zone the shopper falls in they will be priced accordingly.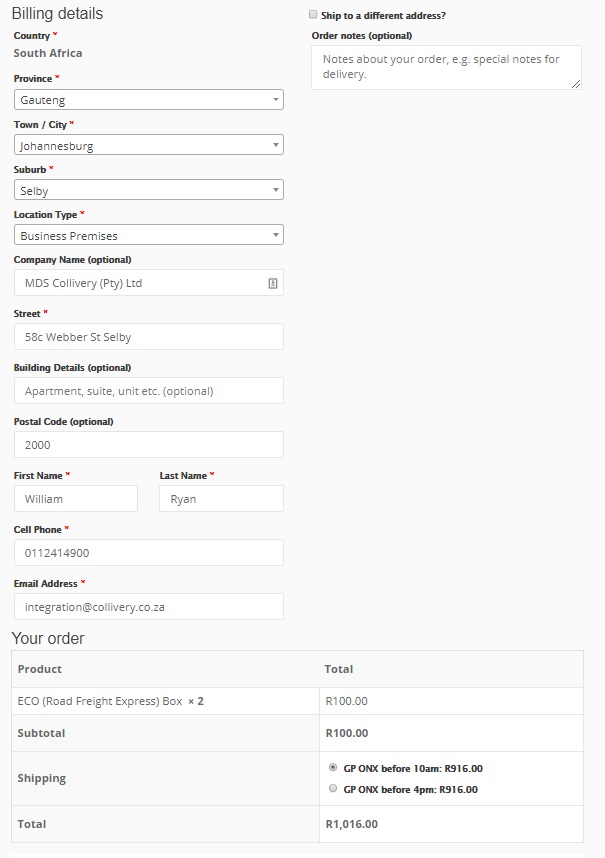 Once your shopper has placed the order the order will be available to process in your backend. With automated waybill processing, waybills are processed when an order goes into "Processing" this usually occurs when the payment has been received. If you have automated processing enabled and your order goes into processing it will generate and MDS Collivery waybill. If you also have Auto accept enabled the waybill will also be accepted and we will then dispatch a driver to collect. If you do not have auto accept enabled, you will need to log into your Collivery.net overview to accept the waybill.
If an order is On hold and you have automated processing enabled and you are ready for collection you can change the status to processing and it will generate a waybill and if auto accepted they waybill will be accepted.
If you have not enabled automated processing:
Open the order, in the order actions select the action Confirm MDS Shipping and click update or



You will then be taken to a page where you can review the details of the waybill.


Click Get Quote to see the pricing and/or Accept/Dispatch to generate a waybill.


To view your history of waybills go to WooCommerce > MDS Confirmed.


Click on a waybill to view the details, open waybill pdf and POD pdf (when POD is available).
If you encounter any issue please do not hesitate to email us
[Enable JavaScript to view email]

. If possible please attach your error logs from the Download Error Logs button in the MDS Collivery Shipping main config.